"Le hasard et le possible" - the origins of DBS in movement disorders.
Wednesday, April 6, 2022
at 5:00 PM (CET)
Neurocast
DFP-approved
more…
While operating on one of his patients suffering from Parkinson's disease, Professor Alim Louis Benabid discovered, almost by chance, a revolutionary technique that was going to change the daily quality of life of hundreds of thousands of patients: high-frequency deep brain stimulation (DBS).
Having become the standard surgical treatment for Parkinson's disease worldwide, rewarded with numerous international prizes, the method raised great hopes. Today, it is used for the treatment of movement disorders and for many other conditions: OCD (obsessive-compulsive disorder), epilepsy, addictions, depression, eating disorders, and Alzheimer's disease.
We will discuss with Prof. Benabid the early moments of this challenging and fascinating scientific journey.
Info for physicians: This event is in co-operation with the "Gesellschaft der Ärzte Wien" (College of Physicians in Vienna). It has been approved by the Austrian Medical Association as a DFP advanced training course (1 point).
(Continuing medical education, CME)
speaker(s)
Prof.
Alim Louis
Benabid
Prof. Dr. Alim Louis Benabid is a professor of neurosurgery and member of the French Academy of Sciences who has had a global impact in developing deep brain stimulation (DBS) for Parkinson's disease and other movement disorders.
moderator(s)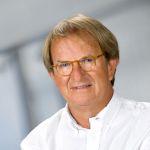 Prof.
François
Alesch
Prof. Dr. François Alesch is a university professor for stereotactic and functional neurosurgery at the Medical University of Vienna. His primary focus is on neurosurgical treatments for movement disorders and pain.