Parkinson's disease is a long and challenging journey
Wednesday, March 24, 2021
at 5:00 PM (CET)
Neurocast
DFP-approved
more…
Diagnosis and treatment of Movement Disorders are commonly a long and winding road. Many obstacles can stand in the way, and often you have to decide on a direction at a crossroads. The first path taken is not always the right one. It makes sense to do this with a companion who knows many of these paths and has already walked them. This NeuroCast shows ways and brings light into the darkness here and there.
Info for physicians: This event collaborates with the Goldenes Kreuz Private Clinic (PremiQuaMed group). The Austrian Medical Association approved it as a DFP advanced training course (1 point).
speaker(s)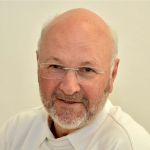 Dr.
Dieter
Volc
Prim. Dr. Dieter Volc heads the neurological department with the Parkinson Center at PremiQaMed Privatkliniken GmbH, Skodagasse 32 • 1080 Vienna.