Structures of amyloid filaments from human brain.
Wednesday, April 27, 2022
at 5:00 PM (CET)
Neurocast
DFP-approved
speaker(s)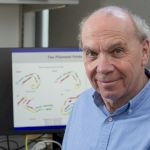 Prof. Dr.
Michel
Goedert
Prof. Dr. Michel Goedert is a neuroscientist at the MRC Laboratory of Molecular Biology. His scientific work combines biochemical, molecular biological, and structural techniques to investigate common neurodegenerative diseases like Alzheimer's and Parkinson's.